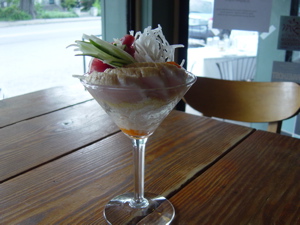 Prep Time: 10 minutes
Cook Time:
Yields: 1 serving
Description
Edit
Impress friends with this elegantly displayed sushi in a martini glass.
Ingredients
Edit
Directions
Edit
To assemble chirashi, place ½ tsp masago in the bottom of the martini glass.
Gently press sushi rice into glass.
Rice should fill about ⅔ of the glass.
Spread tamago across the surface of the rice.
Begin with the back of your presentation by placing a mound of shredded daikon on top of the rice between the 12 o'clock and 1 o'clock position.
Next, mound the remaining masago in about the three o'clock position.
Mound pickled ginger between the 9 o'clock and 10 o'clock position.
Carefully lay cucumber bundle across the top of the pickled ginger, being careful not to flatten the ginger.
Cut albacore tuna into desired size slices.
Carefully prop them up in the 6 o'clock position.
If necessary, adjust presentation slightly so that the entire surface of the rice is covered.
Serve with wasabi if desired and ponzu sauce for dipping.