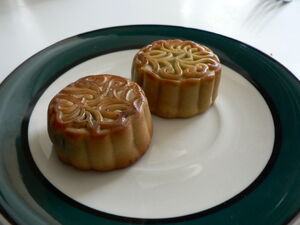 Prep Time: 30 minutes
Cook Time: 1 hour, 50 minutes
Yields: 8 servings
Description
[
]
Although I prefer to buy my mooncakes, when I do have time, I like to make my own.
Ingredients
[
]
Pastry: ( for 1 serving moon cake )
1 tsp golden syrup
1 tsp peanut oil
2 T cup cake flour
1/4 teaspoon baking soda
1/2 pinch salt
Azuki Bean filling:
3 T dry adzuki beans
1/2 cups water
1/2 T cup peanut oil
1/2 T cup white sugar, or more to taste
tsp wheat starch
1 T all-purpose flour
a little bit of an egg yolk, beaten
Directions
[
]
1. Combine golden syrup and 3 tablespoons of peanut together in a small saucepan over low heat until the mixture becomes very warm. (About 3 minutes).
2. Meanwhile, whisk together cake flour, baking soda, and salt in a mixing bowl. Stir in golden syrup until a smooth dough forms. Wrap tightly with plastic wrap and refrigerate at least 4 hours.
3. In a large saucepan, combine the azuki beans and water over high heat. Bring to a boil and reduce heat to medium-low. Cover mixture, and allow to simmer for 1 hour, or until the beans are tender. Once beans are thoroughly cooked, drain and allow to cool for 10 minutes. Puree the beans in a blender or food processor.
4. Heat ¼ cup of peanut oil over medium heat in the same saucepan that the beans were boiled in. Stir in pureed beans along with the white sugar. Cook and stir the bean paste for 10-20 minutes, or until it begins to cling to the stirring spoon.
5. Stir in the wheat starch and then scrape into a mixing bowl. Chill in the refrigerator until cold.
6. Grease a baking sheet and preheat oven to 375 degrees F (190 degrees C).
7. Divide the dough and the filling into 8 equal portions and roll into balls. Press the dough balls between your palms in order to form circles large enough to envelop a filling ball.
8. Place a ball of the filling onto the center of each pastry circle, wrap the pastry around the filling, and pinch the edges together.
9. Roll the mooncakes in the all-purpose flour to coat and shake off any excess. Place the mooncakes seam-side-down onto the prepared baking sheet and press to flatten slightly.
10. Mist mooncakes with water (lightly). Bake in preheated oven for 8 minutes. Remove the mooncakes from the oven and reduce the temperature to 300 degrees F (150 degrees C).
11. Brush mooncakes with beaten egg yolk, applying more of the yolk to the tops than to the sides. Return mooncakes to the oven and bake for an additional 15 minutes or until golden brown. Allow mooncakes to cool completely before serving.