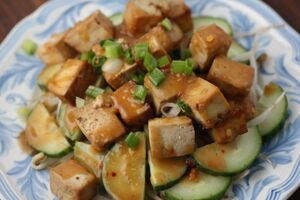 Prep Time: 1 hour, 10 minutes
Cook Time: 1 hour, 30 minutes
Yields: 4 servings
Description
Edit
Cucumbers, glazed tofu --- what could be better? Healthy and refreshing, this salad will turn any tofu naysayer into a tofu lover!
Ingredients
Edit
3 cups high quality tamari
1 tablespoon raw cane sugar
1 package silken tofu, cut into 8 slices
1/4 cup miso sauce
1 large cucumber, julienned
2 tablespoons pickled ginger, julienned
1 teaspoon yuzu or lemon juice
2 teaspoons mirin
Miso sauce (recipe to be included in cooking directions)
Directions
Edit
1. Place 2 ½ cups of the tamari and raw sugar in a non-reactive double boiler. Set aside the remaining ½ cup of tamari and fill the bottom of the boiler with 3 inches of water. Assemble the boiler and place on stove on a medium heat setting. Cook the tamari mixture until it produces a light syrup. You should end up with ¼ cup of tamari syrup. (60-90 minutes)
2. Trim the tofu slices to make each a perfect rectangle. Pour ¼ cup of the reserved tamari onto a plate.
3. Place tofu slices over the tamari, then pour remaining ¼ cup of tamari over the tofu. Pour the tamari so that each slice of tofu is completely covered with the tamari. Allow to marinate for 1 hour.
4. Place the tofu slices on a cookie shoot and baste with a thin coating of the tamari syrup. Place under a preheated broiler 4 inches from the heat and broil for 2-4 minutes or until the tofu jiggles. Use the remaining tamari marinade to baste the tofu as it cooks so it doesn't dry out.
5. Toss the cucumber salad and pickled ginger in a small mixing bowl along with the yuzu and mirin.
6. Place the cucumber salad against the tofu slices, arranging 2 tofu slices per plate.
7. Sauce the tofu with the miso sauce and use any remaining tamari syrup.
Miso sauce:
•1/4 cup light miso
•1/3 cup high grade tamari
•1 tablespoon mirin
•1 tablespoon sake
1. Combine ingredients in a blender and blend until smooth. If you'd like a thinner consistency, use more water.