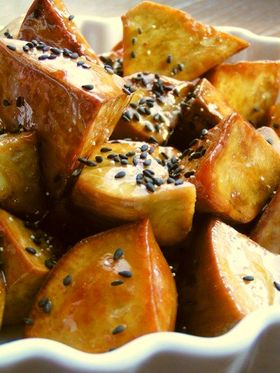 Prep Time: 15 minutes
Cook Time: 7 minutes
Yields: 4-6 servings
Description Edit
This is a very sweet, healthy and delightful quick recipe for honey-glazed sweet potatoes, topped with toasted black sesame seeds! Perfect for a speedy college dorm snack, if you can have access to a sink and cutting board to prepare the potatoes.
Ingredients
Edit
2 sweet potatoes
1 1/2 tbsp honey
1 cup vegetable oil
1 tsp black sesame seeds
Directions
Edit
1. Rinse potatoes in cold water and cut into bite-sized chunks. Note: leave the skin on.
2. Rinse chunks of potatoes, making sure to remove excess water.
3. Add oil to a medium skillet set on high heat.
4. Carefully add potatoes to the oil, turn the heat down to a low setting and cook for 5-7 minutes,or until golden brown.
5. Remove potatoes from oil and place on a piece of paper towel to remove excess oil.
6. Move potatoes to a medium-sized mixing bowl and drizzle with honey.
7. Add sesame seeds and serve hot or cold.