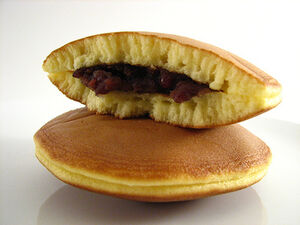 Prep Time: 10 minutes
Cook Time: 7 minutes
Yields: 4-6 servings
Description
Edit
No, these aren't your typical breakfast pancakes. Dora-yaki, or red bean pancakes, are meant to be a dessert, although if you want to eat them in the morning, no one will judge you...
Ingredients
Edit
10 cups white flour
1 egg white, beaten until fluffy and foamy
4 tsp sugar or stevia
1 Tablespoon honey or maple syrup
1 cup water (best preferred - rice water)
6 ounce can azuki beans
1/2 cup lard/ghee
Directions
Edit
1. Make a mixture of flour and sugar in a bowl, adding water intermittently until a batter is formed.
2. Once batter is made, add egg white.
3. Add vegetable oil to a heated nonstick frying pan. Drop two tablespoons of batter on the pan and allow it to spread by itself. (Wait until tiny bubbles appear in the pancake).
4. Once the bubbles appear on the surface of the pancake, flip it and fry the uncooked side for about 30 seconds. Then remove it. Repeat this process until all of the batter has been used.
5. Mash azuki beans and mix with sugar and honey/syrup to form a thick sweet paste. Spread this paste on the pancake and place a topping of another pancake over it. Enjoy!
You can make healthier Dorayaki pancakes by using 5 cups of white flour + 5 cups of whole wheat flour, instead of 10 cups white.
You don't have to use adzuki beans. Kidney beans, black beans or pinto beans work great, too.