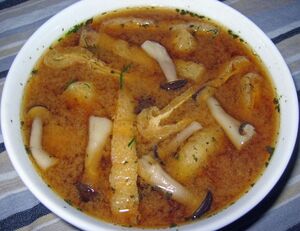 Prep Time: 10 minutes
Cook Time: 15 minutes
Yields: 4 servings
Description
[
]
A welcome change from miso soup, enoki mushroom soup is the perfect defense against the cold weather.
Ingredients
[
]
2 Tbsp. finely chopped onion
1 Tbsp. butter
dash of thyme
1/2 bay leaf
1/2 tsp. salt
1/2 tsp. paprika
1/4 cup dry white wine
1 can chicken broth
2 Tbsp. flour
1 package Enoki mushrooms
1 cup milk
1 Tbsp dry sherry
chopped parsley for garnish
Directions
[
]
1. Saute onion in butter in large saucepan until onions are translucent and slightly browned.
2. Add thyme, bay leaf, salt, paprika, wine and all but ¼ cup chicken broth to sautéed onions. Cover mixture and allow to simmer for 15 minutes.
3. Remove bay leaf and add remaining ¼ cup chicken broth and flour. Stir until mixture begins to thicken.
4. Add enoki mushrooms and simmer for 1 minute.
5. Stir in milk and sherry.
6. Turn heat down to low; do not boil.
7. Garnish with chopped parsley (optional).
8. Serve.