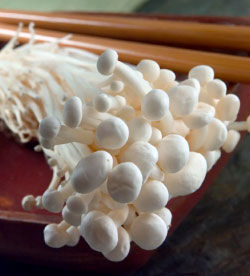 About Enoki mushrooms
[
]
Long and thin, enoki mushrooms grow on tree trunks, roots, and branches in Japan. Enoki mushrooms are commonly found in such Japanese dishes as sukiyaki and nabemono. Grown and packaged in clusters, enoki mushrooms have a refrigerator shelf life of one week.
Enoki mushroom recipes
[
]
Add an enoki mushroom recipe>>
Buying
[
]
Where can you buy it? How do you choose it? Does it have a season?
Do you know? Edit now!!!
Enoki mushrooms can be bought from your local Asian grocers in small, pre-prepared packs. Also found in some larger chain grocery stores, such as Meijer. They grow in winter or under refridgeration. Home growing kits are available online at sites such as Fungi Perfecti.
H-mart in Hartsdale, NY carries them in the produce section.
Production
[
]
Under what conditions is it grown?
Preparation
[
]
How can it be prepared/cooked?
Nutrition
[
]
Do you know? Edit now!!!