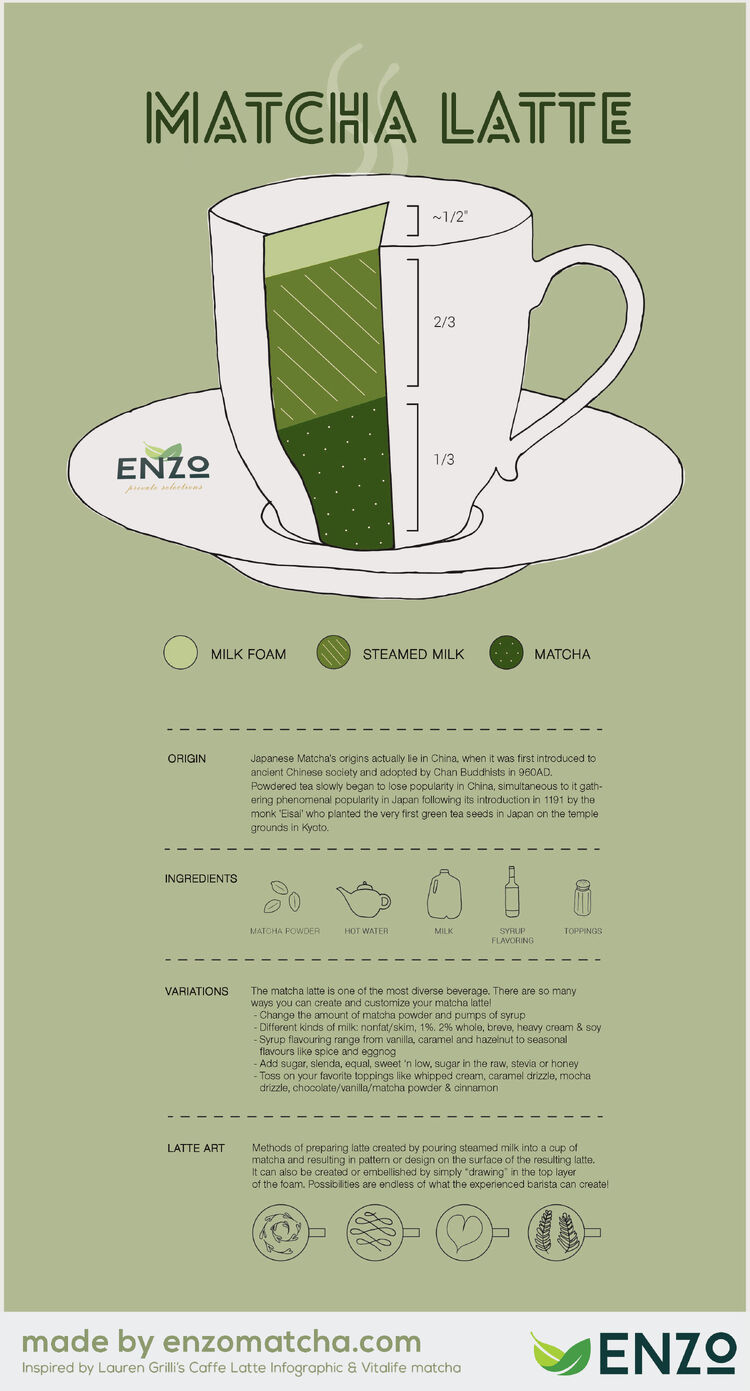 ORIGIN
Japanese Matcha's origins actually lie in China, when it was first introduced to
ancient Chinese society and adopted by Chan Buddhists in 960AD.
Powdered tea slowly began to lose popularity in China, simultaneous to it gathering phenomenal popularity in Japan following its introduction in 1191 by the monk 'Eisai' who planted the very first green tea seeds in Japan on the temple grounds in Kyoto.
INGREDIENTS
MATCHA POWDER, HOT WATER, MILK, SYRUP FLAVOURING, TOPPING
VARIATIONS
The matcha latte is one of the most diverse beverage. There are so many
ways you can create and customize your matcha latte!
 - Change the amount of matcha powder and pumps of syrup
 - Different kinds of milk: nonfat/skim, 1%. 2% whole, breve, heavy cream & soy
 - Syrup flavouring range from vanilla, caramel and hazelnut to seasonal
   flavours like spice and eggnog
 - Add sugar, slenda, equal, sweet 'n low, sugar in the raw, stevia or honey
 - Toss on your favourite toppings like whipped cream, caramel drizzle, mocha
   drizzle, chocolate/vanilla/matcha powder & cinnamon
LATTE ART
Methods of preparing latte created by pouring steamed milk into a cup of
matcha and resulting in pattern or design on the surface of the resulting latte.
It can also be created or embellished by simply "drawing" in the top layer
of the foam. Possibilities are endless of what the experienced barista can create!
Community content is available under
CC-BY-SA
unless otherwise noted.