Description
[
]
Japanese summer salad with egg noodles and ham. This is a delicious salad served only in the summertime in Japan. I really miss being able to drop by the convenience store and pick up one of these for a fast and easy meal. It's wonderfully refreshing, especially when there's no air conditioning available. Cook time refers to boiling noodles.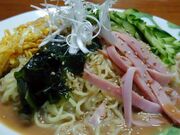 Ingredients
[
]
Soysauce flavor dressing
[
]
Sesame flavor dressing
[
]
Toppings (choose as many as you like)
[
]
thin strips of fried eggs, in an omelette
thin strips

ham

or poached

chicken breasts

julienned cucumbers
julliened carrots

bean sprouts

sliced

tomatoes

pickled ginger (beni

shoga

, in little strips)
Directions
[
]
All ingredients should be as cold as possible for maximum body-chilling benefit.
Divide chilled noodles among serving plates.
Add toppings of your choice.
Add dressing of your choice just before eating.