What a nice recipe! These meatballs are flavored with Sesame Oil and Scallion, and served with a rich, salty Soy Sauce Dip! You can also put these meatballs on a skewer, or top them with pickled ginger, scallions, or pickled radish slices.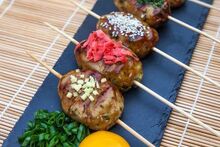 What you will need 4 the meatballs: Edit
1 pound of ground chicken
2 tablespoons corn starch
1 egg (beaten)
1/2 tablespoon minced scallion(green onion)
1 tablespoon vegetable oil
1 tablespoon toasted sesame oil
For soy dipping sauce: Edit
1/2 cup soy sauce (any kind)
1 tablespoon rice wine vinegar
2 tablespoons diced scallion (green onion)
granulated sugar.
Directions:
Edit
For the meatballs:
Combine the chicken, the corn starch, the egg, the ginger, and the scallion in the bowl until it is all combined. Then with wet hands make into little meatballs.
Heat the vegetable and the sesame oil in a saute pan over medium heat and cook the meatballs until browned and cooked through.
For the sauce:
Whisk together the soy sauce, rice wine vinegar, scallions and pinch of sugar.
Share these meatballs with friends and family at dinnertime!
☀( ´ ∀ ` )ノ
Community content is available under
CC-BY-SA
unless otherwise noted.