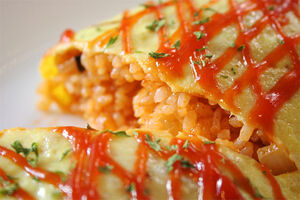 What is YOUR favorite Summer Dish?...
Here are our top 5 dishes of the season:

VS.






Sushi IQ
---
Is squid, salmon or tuna the most popular fish in Japan?
Last weeks Sushi IQ:
Q. What type of fish is a Japanese delicacy but also can be deadly to eat? A. Blowfish
See All Sushi IQ >>


Blogs
Hey, Everybody
I'm SweetPinkStrawberry and I'm new to the wiki and I'm definitely a fond of japanese food, my favorite Japanese dishes are Sushi, Hibachi,Dumplings/Dim Sum,Sashimi,Tempura, and Ramen. …
The Geisha World Wiki is named after the artistic and mystical women known as Geisha (Geiko or Geigi), but it deals with interests other than geisha, such as; the arts of Japan, their religion which …
See more >

Community content is available under
CC-BY-SA
unless otherwise noted.