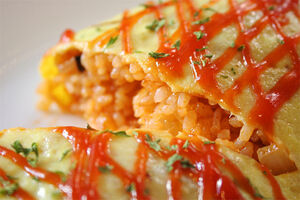 What is YOUR favorite Summer Dish?...
Here are our top 5 dishes of the season:

VS.


What is your favorite kind of sushi?





Sushi IQ
---
Is squid, salmon or tuna the most popular fish in Japan?
Last weeks Sushi IQ:
Q. What type of fish is a Japanese delicacy but also can be deadly to eat? A. Blowfish
See All Sushi IQ >>


Loading RSS data...

Create blog post
Blogs
The Geisha World Wiki is named after the artistic and mystical women known as Geisha (Geiko or Geigi), but it deals with interests other than geisha, such as; the arts of Japan, their religion which …

Read more >

Yo! I'm new here. What's up?

I'm not really new to the whole wiki thing but I just joined this little wiki thing to fixed some advertisement on a page that irritates me. I mean what the hell is a Mala…

Read more >
See more >