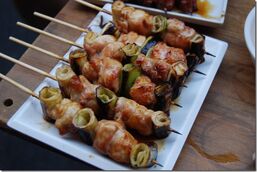 Prep Time:
Cook Time:
Yields: Serves 4
Description
Edit
Yakitori chicken is a Japanese dish that's very quick and easy to prepare. The time consuming task of preparing and chopping the vegetables is avoided by buying them ready to cook. You'll enjoy the balance of sweet and tangy in the marinade. Find a white wine with no oak, but a little sweetness – an apple German Riesling is spot on. Or sake would be very nice, too.
Takes 15 minutes to make, plus marinating
Nutritional Information (per serving):
31 kcals
8.6 g fat (1.6g saturated)
32 g protein
25.5 g carbs
18.4 g sugar
4.4 g salt
Ingredients
Edit
3 large skinless, boneless chicken breasts cut into thin strips
6 tbsp dark soy sauce
4 tbsp clear honey
2 tbsp dry sherry
1 tbsp sesame oil
450g pack crunchy stir-fry vegetables (with pak choi, water chestnuts, bean sprouts, carrots, peppers, red onions and herbs)
1 tbsp cornflour (corn starch)
Directions
Edit
Mix the chicken, soy sauce, honey and sherry in a shallow non-metallic dish.
Cover and set aside to marinate for 15 minutes – if you have time.
Drizzle cornstarch/cornflour over chicken.
Heat the oil in a large wok or frying pan over a high heat.
Remove the chicken from the marinade with a slotted spoon, add to the wokand stir-fry for 5 minutes, until cooked through.
Remove the herbs from the pack of stir-fry vegetables and set aside in cold water.
Tip the vegetables into the pan and stir-fry for 1 minutes.
Mix any remaining marinade with the cornflour until well combined and pour into the pan.
Stir fry for 1-2 minutes until everything is cooked and coated in the sauce.
Serve spooned over flat rice/noodles scatter with the reserved herbs.