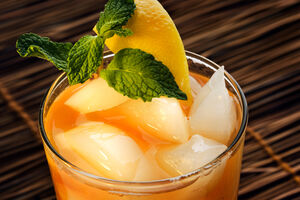 Prep Time:
Cook Time:
Yields: 8 servings
Description
Edit
Put a new spin on iced tea by adding some ginger! The bold flavor will have you adding to ginger to everything!
Ingredients
Edit
2 cups water
1 cup sugar
1 teaspoon ground ginger
1 1/2 teaspoon grated lemon peel
6 green tea bags
4 teaspoons fresh lemon juice
Directions
Edit
1. Add water, sugar, ground ginger, and lemon peel to medium saucepan and bring to boil over medium heat.
2. Once mixture has come to full boil, reduce heat to where a temperature where it sustains a gentle boil. Cook for 7-8 minutes.
3. Remove from heat and add the green tea bags. Steep tea mixture for 10 minutes, stirring or dunking the bags often.
4. Remove tea bags and stir lemon juice into the tea liquid.
5. To make a cup of iced tea: pour ¼ cup of concentrated tea mixture into a tall glass over ice and stir in ¾ cup of sparkling or seltzer water or club soda.