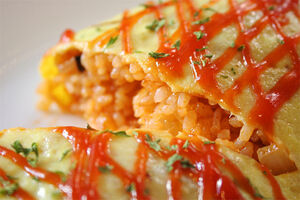 Prep Time: 15 minutes
Cook Time: 15 minutes
Yields: 4 servings
Description
Edit
Who knew that rice in an omelet could taste so good? Although this is a traditional Japanese lunch item, smaller servings of this delicious treat can serve as a side dish. Enjoy!
Ingredients
Edit
4 cups steamed Japanese rice / or 4 cups steamed Cauliflower "rice"!
1/2 lb. chicken breast
1 green peppers, chopped
4 white mushrooms, sliced (optional)
1/2 onion, chopped
salt and pepper to season
4 Tbsp. ketchup
1 c. vegetable oil
8 eggs
Directions
Edit
1. Cook steamed rice or cauliflower "rice" as directed.
2. Cut chicken into small pieces.
3. Chop green pepper.
4. Slice mushrooms thinly.
5. Heat vegetable oil in a large skillet and sauté chicken. Add onion, mushrooms, and green pepper in the skillet and sauté together until tender.
6. Add steamed rice/cauliflower rice in the pan and stir-fry together. Sprinkle some salt and pepper. Stop the heat and add ketchup and mix well. Set the seasoned rice aside.
7. Heat 1 tsp of vegetable oil in a large skillet. Beat two eggs in a small bowl and pour the egg in the skillet. Quickly spread the egg and make a round omelet.
8. Place 1/4 of the seasoned rice or cauliflower "rice" in the middle of the omelet. Fold top and bottom sides of omelet over the rice. Cover the frying pan with a plate and turn them over to place the omurice in the plate.
9. Repeat this process to make four omurice(s).
10. Serve and top with ketchup (optional).
Community content is available under
CC-BY-SA
unless otherwise noted.