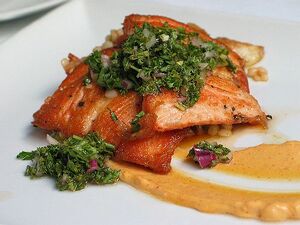 Prep Time: 30 minutes
Cook Time: 20 minutes
Yields: 1 serving
Description
[
]
Ingredients
[
]
Salmon
[
]
(1) 7 ounce salmon fillet
Salt and freshly ground black pepper
1 teaspoon five-spice powder
Azuki Bean Paste
[
]
1 (3-inch) piece ginger, crushed
2 teaspoons chopped garlic
1 finely chopped red onion
Peanut oil
1 cup azuki beans soaked overnight
2 cups chicken stock
¼ cup rice vinegar
1 cup orange juice
1 lime leaf
½ teaspoon red pepper flakes
¼ cup mirin
Salad
[
]
Shredded daikon
Shredded carrot
1 lemon
1 tablespoon mirin
Peanut oil
Spring Rolls
[
]
1 cup julienned carrots
1 cup julienned shiitake mushrooms
1 cup julienned snow peas
1 cup julienned cabbage
1 cup bean sprouts
1 teaspoon chopped ginger
1 teaspoon chopped garlic
½ cup bias cut scallions
¼ cup sesame oil
¼ cup tamari sauce
Egg roll wrappers
Egg wash
1 cup canola oil
Caramel sauce
[
]
½ cup sugar
½ cup water
Fish stock
Tamari sauce
Lime juice
Directions
[
]
Salmon
[
]
Season salmon with salt, pepper, and five-spice. Sear the fish skin side first. Continue cooking until skin is crispy.
Flip the fish and cook on flesh side until a dark pink color begins to appear. Remove the skin and allow salmon to marinate in soy. Reserve the salmon and crisp the skin in a hot pan (or griddle) until crispy.
Azuki Bean Paste
[
]
Sweat the ginger, garlic, and red onion. Add the beans and cover with chicken stock. Combine rice vinegar, orange juice, lime leaf, red pepper flakes, and mirin with beans and cook beans for 2 hours or until they become tender.
Once beans are thoroughly cooked, transfer to a food processor and add butter. Puree and allow beans to cool.
Salad
[
]
Prepare a salad using the shredded daikon and carrot. Use the mirin, lemon, and oil as a salad dressing.
Spring Rolls
[
]
To prepare vegetable rolls, quickly sauté all the vegetables in sesame oil with ginger, garlic and scallion. Once vegetables have cooled, add to egg roll wrappers and seal wrappers with egg wash. Fry prior to serving. Bla
Caramel sauce
[
]
Prepare caramel using sugar and a little water. To stop the caramel from continuing to cook, once the sugar is dark, add fish stock. Adjust mixture with a little tamari and finish with lime juice. The end product should be thick but easy enough to pour.
Transfer salmon to a plate and use some of the skin as garnish. Add azuki paste, salad, and a vegetable roll. Drizzle the plate with additional sauce.