We're Getting Mutants in the MCU - The Loop
Play Sound
Shincha (新茶), literally "new tea", represents the first month's harvest of Sencha, a Japanese green tea. Basically, it is the same as ichibancha (一番茶), "the first-picked tea," and is characterized by its fresh aroma and sweetness. Use of the term "ichibancha" rather than "shincha" generally infers its difference from "nibancha" ("the second-picked tea") and "sanbancha" ("the third-picked tea"). Use of the term "shincha" generally is to emphasize that it is that year's earliest tea, and is timely and seasonal. The opposite term is kocha (古茶?), or "old tea," referring to tea left over from the previous year.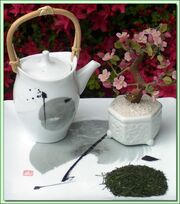 Cultivation
[
]
Tea-picking in Japan begins from Kagoshima and that warm, southern region, and like the northward movement of the "front line" of the blooming of the cherry trees, gradually moves north to the colder regions. During the winter, tea plants store nutrients, and the tender new leaves which sprout in the spring contain concentrated nutrients. Shincha represents these tender new leaves. In Japan, it has traditionally been said that if one drinks tea made of the new leaves picked on the 88th day after the spring equinox (February 4), one can enjoy a year of good health.
Besides the fresh aroma of the young leaves, shincha is characterized by its relatively low content of bitter catechin and caffeine, and relatively high content of amino acid.
Shincha is available only for a limited time. The earliest batch, from southern Japan, comes on the market around late April through May. It is popular in Japan, but is available in only limited amounts outside of Japan. It is prized for its high vitamin content, sweetness, and grassy flavor with resinous aroma and minimal astringency.