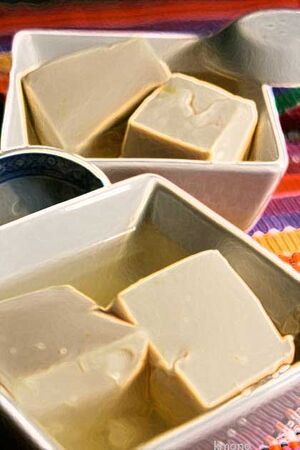 About Silken tofu
Edit
Silken tofu is a type of tofu used in blended dishes. In Japan, Silken Tofu is often enjoyed with soy sauce.
Unlike regular Chinese-style tofu (bean curd), Silken tofu has a softer consistency. Thick and creamy, it is available in three consistencies: medium, firm, and extra firm.
Silken tofu, and tofu in general, serves as an alternative to meat.
Silken Tofu Recipes
Edit
Works best in those recipes where the tofu is not required to retain its original shape (i.e., salad dressing, sauce, and dessert recipes).
Where can you buy it? How do you choose it? Does it have a season?
Do you know? Edit now!!! What kind of recipes use this ingredient? How is it typically added? Do you need special tools?
Do you know? Edit now!!!
Preparation
Edit
How is it made or grown?
Nutrition
Edit
Do you know? Edit now!!!
Community content is available under
CC-BY-SA
unless otherwise noted.