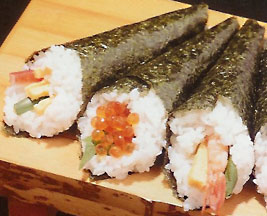 Description
Edit
Hand rolls are in the winner's circle for sushi lovers because they are so crisp, tasty, and easy to make and eat.
Here, the tastes are kept simple by using fresh tuna and just enough spicy mayonnaise sauce to lift the tuna's flavor.
When making hand rolls, You should get the highest quality nori you can afford because the nori is such a dominant part of a hand roll's taste and texture.
Ingredients
Edit
Directions
Edit
Prepare the spicy mayonnaise by stirring together the mayonnaise, hot chili sauce, and hot sesame oil in a bowl.
Add the diced tuna to the bowl, turning it over to coat it well. Refrigerate the tuna if you are not using it right away.
Cut the nori sheets in half, forming 4x7 inch half sheets.
Place a half sheet of nori in the palm of your left hand, shiny side down.
Dip your right hand into a bowl of vinegared water and then tap your fingers on a damp towel to remove excess water.
Place about ¼ cup sushi rice on the nori, toward the top portion of the nori, patting the rice out on a diagonal, from the top area of the nori toward the heel of your palm
Fold the bottom left corner of the nori over the fillings and then continue rolling to the right until you have a cone shaped roll. Make 3 more hand rolls, following these instructions.
Serve immediately with soy sauce as a dipping sauce, and pickled ginger to cleanse the palate.