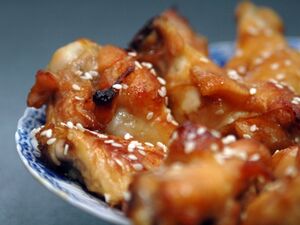 Prep Time: 3 hours, 20 minutes
Cook Time: 1 hour
Yields: 6 servings
Description
Edit
There's really nothing bad to be said about Teriyaki Chicken. It's easy to make, and most of all, delicious! Goes great with steamed rice or a nice side salad.
Ingredients
Edit
(1) 3 pound whole chicken, cut in half
3/4 cup granulated sugar
3/4 cup soy sauce
1 tablespoon grated fresh ginger
2 cloves garlic, minced
Directions
Edit
1. Rinse chicken halves and pat dry with paper towels. Place chicken cut side down in a 9 x 13 inch baking dish.
2. In a medium-sized mixing bowl, combine sugar, soy sauce, grated ginger, and garlic. Mix well and pour mixture over chicken. Cover and marinate for at least 3 hours.
3. Preheat oven to 350 degrees.
4. Bake chicken uncovered for 1 hour, basting every 10-15 minutes. Test for doneness by inserting a butter knife into various pieces. Juices should run clear and there should be no pink left in the meat.
5. Allow meat to cool slightly, cut into smaller pieces and serve.