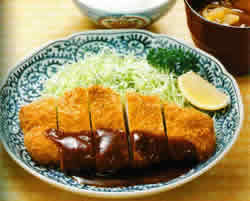 Prep Time: 30 minutes
Cook Time: 7 minutes
Yields: 4 servings
Description
Edit
As one of the most popular meat dishes in Japan, tonkatsu is usually served on a bed of cabbage with a side of steamed rice. Quick and tasty, it functions as either a lunch or dinner entree!
Ingredients
Edit
Directions
Edit
Remove the fat from one side of the loin cutlet (this will prevent the fat from curling once it is deep-fried).
Lightly season both sides with salt and fresh pepper.
Dip the cutlets in the flour, followed by the beaten egg and breadcrumbs. Cutlets should be evenly coated with all three ingredients.
To deep fry, bring about 3 inches of oil to 350°F/175°C in a heavy-bottomed pan or deep-fryer.
Lay no more than 2 cutlets at a time in the hot oil. Deep-fry for 5 to 7 minutes, or until golden brown. Be sure to turn the cutlets once or twice while cooking.
Remove cutlets from the oil and drain on a piece of paper towel.
Cut pork crosswise at ¾ inch intervals. Note: if you plan on eating the tonkatsu with a knife and fork, do not bother to cut it at this point.
Serve tonkatsu on a bed of shredded cabbage, arranging the cutlet slices as though the cutlet were a whole piece.
The sauce can poured on top of the cutlets or served on the side in a dipping bowl.
Garnish with lemon wedges, if desired.