About Me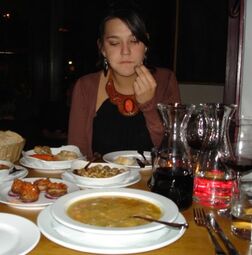 Hello! I have an endless love for technology, food, and fun so I can't imagine a better fit for me than Wikia.
Some of my favorite foods and recipes...
Sushi and a big bowl of miso soup
Baked Orecchiette w/ Spicy Italian Sausage
Ginger Creme Brulee
Manchego Cheese w/ honey and almonds (don't forget the wine)
Wild Mushroom Risotto Croquettes stuffed with mozzarella cheese
Other Interests...
Dance (particularly contemporary, modern and ballet)
Sewing wearable clothing from thrift store finds
Camping (if you live in the Bay area don't miss Point Reyes)
Contact Information
Skype: KimberlySue123
Community content is available under
CC-BY-SA
unless otherwise noted.