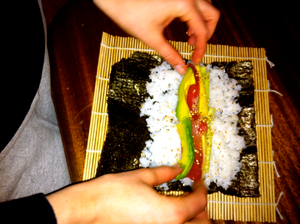 I love going to sushi but I also love cooking and preparing food at my house with friends. Last weekend we decided to try our hand at making sushi. It turned out to be a lot easier than I thought it would be.
We picked up some sushi-grade fish at our local pier and then went to the asian market to get some ginger and seaweed salad to complete the meal. We simply added water, seasoned rice vinegar, sugar and salt to our rice. We cut up carrots, cucumbers, avocado and had fresh tuna and salmon. We kept the rolls pretty simple at first but as the night went on we began exploring with chili sauce wrapped in the roll and even ginger in the roll and the crumbs at the end of a bag of Spicy Thai Kettle Chips, which were surprisingly delicious.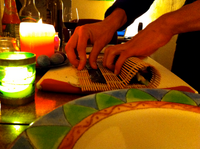 So stay in, get some friends and try out a sushi night. Make sure you have fresh fish and you should be ready to roll!