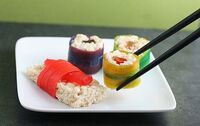 Tired of eating regular old plain sushi. Don't want to concern yourself with knowing the proper Sushi Etiquette? Perhaps, you just have a sweet tooth and want to try something normal or fun. You are in luck, as today we will share courtesy of First Look, Then Cook, a recipe for Candy Sushi. The recipe is as follows.
Ingredients
1/4 cup butter
1 (10 oz., about 40) pkg. regular marshmallows or 3 cups miniature marshmallows
6 cups Kellogg's Rice Krispies cereal
Swedish Fish
Gummy Worms
Fruit by the Foot
Preparation
In a large saucepan, melt butter over low heat. Add the marshmallows and continue to stir until the marshmallows have completely melted. Remove from heat.
Stir in the Kellogg's Rice Krispies cereal coating them well with the melted marshmallow mixture.
Using a buttered or silicone spatula, press the mixture evenly into a 12 x 17 x 1 inch (jelly roll) pan which has been buttered or sprayed with non-stick spray or lined with wax paper. Cool completely.
To make the rolls, cut a 12 x 2.5 inch strip of the rice krispie teats. Place gummy worms next to each other in the middle of the strip. Very carefully, roll the rice around the gummy worms. Slice the roll into about 11 pieces. Take some fruit by the foot, and wrap the outside of each roll.
To make the sushi, cut the rest of the rice krispie treats into rectangles. Place a swedish fish in the center, and wrap with some fruit by the foot.
Gallery
This recipe seems like a pretty fun way to get kids introduced to the concept of sushi. What do you think of this recipe?
Source